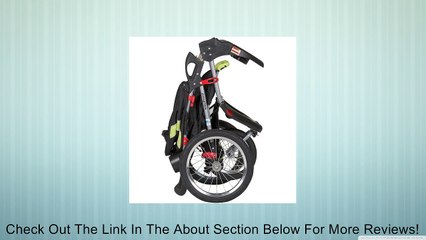 Baby Trend Expedition Jogger Travel System, Electric Lime - Baby Strollers - Infant Car Seat - Stroller Travel Systems - Made From Lightweight Steel Frame - Multi-position, Reclining, Padded Seat - 5-point Harness on Car Seat Review
Armindao | 6 months ago
Baby Trend Expedition Jogger Travel System, Electric Lime - Baby Strollers - Infant Car Seat - Stroller Travel Systems - Made From Lightweight Steel Frame - Multi-position, Reclining, Padded Seat - 5-point Harness on Car Seat Review
Baby Trend Expedition Jogger Travel System, Electric Lime - Baby Strollers - Infant Car Seat - Stroller Travel Systems - Made From Lightweight Steel Frame - Multi-position, Reclining, Padded Seat - 5-point Harness on Car Seat
The Baby Trend Expedition Jogger Travel System switches from a walking stroller to a jogging one with just a lock of the wheel. Whether you stroll the urban terrain or go for a jog, this innovative lightweight baby travel system will keep your baby safe and comfortable. The seat on this Baby Trend Expedition travel system in Electric Lime can be locked to different reclining levels to keep your little one at the most comfortable position.
Expedition Jogger Stroller: For a child from birth up to 50 lbs, Max height limit: 42 tall, Multi-position, reclining, padded seat, 5-point safety harness, Adjustable canopy with covered sunroof ratchets to block sun and wind, Baby travel system stroller has a covered storage basket, Parent tray with 2 cup holders and pockets, Accepts all Baby Trend infant car seat models, 16 rear and 12 front all-terrain bicycle tires
Front swivel and locking wheel for easy jogging or strolling, Extra-wide, ergonomically shaped, foam padded handle, Footrest reflectors provide greater low-light visibility, Effortless trigger fold easily reduces stroller to a compact unit, Lightweight, steel frame construction, Pads are covered with a soft and luxurious polyester fabric with polyester fill, Baby Trend Expedition Jogger Travel System stroller is JPMA certified
Infant Car Seat: Rear facing for a newborn 5 to 30 lbs up to 30, 5-point harness on baby travel system car seat, Adjustable canopy, EPS energy absorbing foam for superior side impact protection, Large, soft head support, LATCH-equipped for easy installation, Baby Trend Expedition travel system in Electric Lime car seat has an auto base, Conforms to all applicable Federal Motor Vehicle Safety Standards
Made from lightweight steel frame, this travel system is easy to carry, yet doesn't lag behind on durability. The car seat is sturdy enough to accommodate infants up to 30 lbs. The covered basket lets you keep all your essentials at your reach, whereas the parent tray lets you store your refreshments. With an adjustable canopy, this travel system keeps your baby safe from the elements. Perfect for the parent-on-the-go, the Baby Trend Expedition Jogger Travel System folds easily for convenient storage and portability.