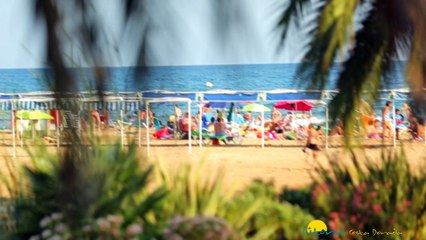 Holiday cambrils Costa Dorada, Spain. Rental home very close to the beach
Litoralcostadorada | 6 months ago
http://www.litoralcostadorada.com/en/villa-cambrils-121893-1397595177.php
Lovely holiday home Villa Sa Calma located in Cambrils just 40 mts from the beach, 6 bedrooms, lovely garden and airconditioning.
Located just 40 meters from the beach, the inside house is fully renovated , surrounded by pines trees and vegatación, make the house Sa Calma an ideal place for a wonderful familly holiday .
During 3 minuts you will discover Cambrils as perfect destination in this video and find some of the many posibilities to be enjoyed by the visitors like gastronomy, culture, Port Aventura, sun, beach and a perfect destination for families. In this video you will enjoy fantastic images from Cambrils and Costa Dorada área.
Litoral Costa Dorada its one of the most important turistic companys in Costa Dorada with more than 350 properties in the area.
Litoral Costa Dorada has the pleasure to offer you a wide range of holiday apartments and accommodations on the Costa Dorada. Discover and enjoy the best destinations for summer holidays on the Costa Dorada, such as Cambrils, Miami Playa, Salou, Hospitalet de l'Infant and Ametlla de Mar. Rent your holiday apartment with Litoral and you won't be disappointed.
If you want to see more houses and apartments check our personal website :
#Cambrils #Salou #holiday cambrils #costa dorada #portaventura #video cambrils #beach cambrils #holiday salou #holiday costa dorada #restaurants cambrils #