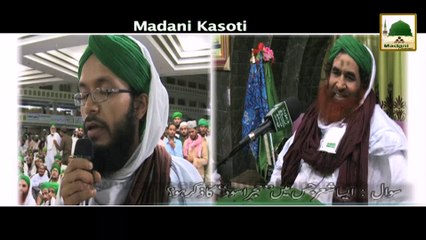 Madani Kasoti 735 - Aisa Shair Jis Main Hajar e Aswad Ka Zikr Ho - Maulana Ilyas Qadri
This video contains Madani Kasoti a Famous Segment of Program Madani Muzakra by Sheikh e Tareeqat Ameer e Ahlesunnat Maulana Ilyas Qadri Maulana Ilyas Qadri.
Click the following Link to watch more Islamic Videos: http://www.dailymotion.com/ilyasqadriziaee
All the Viewers requested to kindly connect to DawateIslami, The World Islamic Organization of Quran & Sunnah: http://connect.dawateislami.net
Kindly share this Video to as many people as you can and post your comments about this Video. It will be sadqa e jaria for us.
Website Link:
Join us on Facebook:
https://www.facebook.com/IlyasQadriZiaee
#Madani Channel #madani kasoti 735 #aisa shair jis-main #hajar e aswad #ka zikr ho #ameer e ahlesunnat #maulana ilyas qadri #islamic videos #famous program #dawate islami #
By: Ilyasqadriziaee | 4 months ago
Watch On dailymotion.com